The Ballantine Musick Book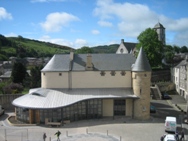 Hawick Heritage Centre
The Ballantine Musick Book is a hand-written collection of fiddle music dated 1770. You can see and handle the book at the Hawick Heritage Centre. The tunes can often be identified as direct copies from earlier sources but there is also other, less well-known, material.

Little is known of the book's author, James Ballantine, although he is believed to have been a tenant farmer at Muirton in the parish of Skirling (near Broughton) then later at Woodhouse Farm in the Manor Valley. Here he would have had as a neighbour David Ritchie, the 'Black Dwarf' of Scott's novel of that name. If he could play all of the pieces he copied into his book then he was not only a farmer but a fiddler of some technical accomplishment.
Matt Seattle
has commented that the 2/4 marches in the collection are mostly of little musical interest. I'd guess that these tunes were socially required for a popular dance of the day - the
Aird collection
(scroll down a bit) has likewise more than its fair share of such trifles, usually described as 'quicksteps'. The minuet is also well represented and although not often heard on the fiddle nowadays often sits very prettily on the clarsach.
I suppose I should have copied the original verbatim, and then made a second copy with correction of what I believe to be errors. I didn't (laziness), so what appears here is a corrected edition. If you want to take issue with my reading of the scores, betake yourself off to Hawick and have a look at the original. Hawick is a nice town, and the staff in the centre are helpful and enthusiastic. One is a folk-singer - speak nicely to her and she may sing Gil Morice for you.