Family
(Research by Christine Lockhart)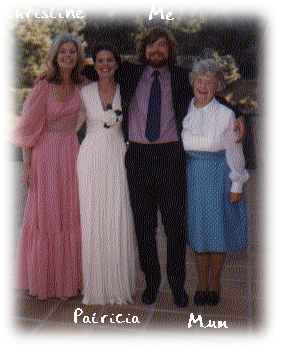 Christine, Pat, Douglas, Mum (Marie)
San Diego, 1975
The name LOCKHART is amongst the oldest Scottish surnames. It is first mentioned in the 11th century, when surnames were adopted in Scotland for the first time. Various derivations of the name are suggested, but it is probably Old French, Loccard. In the l2th century Simon and Steven Loccard, brothers, were prosperous landowners in Ayrshire. The village of Stevenston in the same county is called after the former. Later, branches appear in Lanarkshire and Edinburgh.

In the summer of 1974 I made several trips to New Register House in Edinburgh to research my family history. I began with no particular aims other than going back as far as possible. Lately, I have had this secret desire to tie us up somewhere with the Lockharts of Carnwath - not because I want to be associated with the landed gentry (perish the thought) - but because George Lockhart of Carnwath was against the Union of the Parliaments, and one of his sons was executed as a Jacobite after the '45.

The fact that the name 'Charles' was carried on into the nineteenth century feeds my fancy that we had Jacobite sympathies, since (from my terrible rag-bag of a mind) I seem to remember reading somewhere that the name 'Charles' was avoided unless there was some Jacobite connection. But as the Lockhart family was the poorest of the poor it is unlikely that we had any direct connection with any of the major political movements of the day. And yet, as we enter the Millennium, this branch of Lockharts are all nationalists. Racial memory?
ORIGINS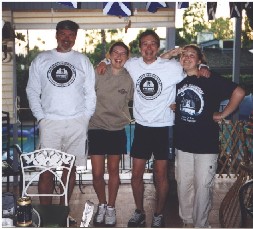 Douglas, Joanne, David, Jenni
San Diego, 2000
It is commonly held that the family had come originally from the south of Scotland. I started off with my grandfather's death, (Duncan Lockhart) and worked backwards from there. I was helped by the fact that in the Lockhart family, for the most part, the first son was called after the paternal grandfather, the first daughter after the maternal grandmother and so on, in the Scottish tradition, and only in my generation has this tradition been abandoned.
It was also an advantage, although I was not aware of it at the time, that my family had stayed around the Cardross-Renton-Dumbarton area for nearly two hundred years, on the male (Lockhart) side, and probably much longer on the female side.
When I last revisited New Register House it cost £17 for the day's research and everything had been put on to microfilm and computer. While the computer made it easier to trawl through Births, Marriages and Deaths, the microfilms were difficult to read, and did not give the same thrill as handling the original documents.
The Lockharts in the nineteenth century, from the 1830s onward, worked in the
mills
, the bleach works and printfields on the River Leven. At one time they were living in Glasgow, in Finnieston, working in the mills there (John Lockhart was a block printer) before moving back to Renton. Today if you travel from Dumbarton to Renton you will see high beech trees lining the road. These trees grew from the beech hedges that were used to bleach the cotton produced in the mills.
One of the Death Certificates I saw at Register House concerned my great-great-great-grandmother, Janet Lockhart, who died in 1865. It was witnessed by 'an Inspector of the Poor'. The Census of 1871 shows that 11-year old Duncan Lockhart is a 'factory worker'.
JOHN LOCKHART b? d?
Schoolmaster. His occupation is recorded on his wife's Death Certificate in 1865. Dates of birth and death unknown, likewise place of birth, but possibly c 179~ -c 1840, and born in Annan. He was dead by this time of the 1841 Census. The Parish Register for Dumbarton(shire) records his marriage to Janet MacFarlane on November 1 1814. The births of their three eldest children are also recorded Charles, 1816, Duncan 1818, and Helen 1819. Census returns give different ages, but can be unreliable.

For the whole of the previous century (eighteenth) schoolmasters had been in a very bad way. Teachers were ill-paid and worse housed. Henry Graham writes in 'Social History of Scotland in the Eighteenth Century':
In many places the kirk was used as a schoolroom; in others the church steeple, a family vault, a granary, a byre or stable, or any dilapidated hovel was used; usually the poor man had to pay the rent out of his own miserable earnings.
Things had improved by the beginning of the nineteenth century, particularly if the schoolmaster was the one officially appointed for the parish, but schoolmasters were still desperately poor. I have not been able to discover where John taught. The New Statistical Account of Scotland 1839 gives the following information about education in the parishes of Cardross and Bonhill.
BONHILL: There are seven schools in the parish, two of which are parochial. The average amount of each of the schoolmaster's salaries (i.e. of the parochial schools) is £21-7s with £15 school fees and £7 other emoluments, being the yearly worth of the dwelling-house, schoolroom and garden. Two of the non-parochial schools are taught by females. About 7/8 of the ~on are employed at the bleachfields etc. To these works too children are sent, in many cases under seven years of age. Any learning they get afterwards is at evening and Sunday schools.

CARDROSS: There is one parochial, the schoolmaster receives a salary of £34. He is also clerk to the session. There are five private schools, emoluments derived from fees.
If John Lockhart was employed in a parochial school, then his education would have been reasonable and his income guaranteed; if in a private school (set up in his own house or visiting his pupils), then his education could have been anything. He could have been an MA (this did not automatically guarantee him a place in a parish school), or have been only just able to read and write himself, but his income would depend on the ability of his pupils to pay. I have been unable to establish a connection between a John Lockhart who matriculated at the University of Glasgow in 1807 - I have not been able to trace him graduating - and our family. He was born in Glasgow, second son of John Lockhart, tailor.
Schoolmaster John's youngest son, John, could not write when his son William was born in 1858 (he signs the Birth Certificate with an "X") but in 1864 he signs his name on the Death Certificate of his son, David, suggesting that he may have attended evening school.) It seems odd that a schoolmaster would neglect the education of his own family, so it is possible that the father died before the boy was of an age to start learning. Since at this time, the 1830s, children under seven were working at the dyeworks, and a fatherless household would need every penny it could get, this could explain John's early illiteracy. Also, at that time, many people were 'reading literate' without being able to write, since there was no great need for writing. As late as 1871, Duncan Lockhart, aged 1l, was working in the mills.
JANET MACFARLANE c1795-1865
Her parents were Duncan MacFarlane, a ship's master, and Helen Gardner. She was born in the parish of Cardross. Left a widow, possibly before she was 40, with four children, she also gave a home to her daughter and grandson, Andrew Kirkpatrick, and to the children of her son, Duncan: Sarah and John. Her Death Certificate was witnessed by an 'Inspector of the Poor'
CHARLES LOCKHART 1816-1870
Schoolmaster John's eldest son, born in Renton 1816. He married Rachel Kirkpatrick and died in 1870, his occupation at that time being described as 'druggist', In the 1841 Census for Renton his occupation is given as 'calico worker'.
DUNCAN LOCKHART 1818 –1858
Second son of Charles, born in Renton 1818 and died in 1858 of consumption. His wife, Christine McGregor, was already dead. In the 1861 Census for Renton Janet, the Schoolmaster's wife, has two grandchildren staying with her: Sarah (6) and John (4) - Duncan's children. John also died of consumption, in 1868 aged 11.
HELEN LOCKHART 1819 - ?
The only daughter, born in Renton 1819. In the 1841 Census for Renton, she is married (married name Kirkpatrick), has a four-month- old son, Andrew (William?), and is living with her mother, and continues to do so for the next 20 years. She married William Kirkpatrick (1810-1841) glassmaker in Dumbarton in March 1840. He was allegedly an illegitimate son of Colquhoun of Rossdhu. According to family tradition he was pushed into the Leven after a fight and drowned. A glass obelisk measuring approximately 12-16 inches high was given to Helen Lockhart by her husband's fellow workers at the glass factory. It bears three inscriptions:
In memory of William Kirkpatrick Glass Maker
Born 1810 died Feb 27 1841 Aged 30 years
In memory of Catherine Douglas died April 1872 aged 65 years
Duncan L. Kirkpatrick India Street Alexandria
The obelisk is now in the possession of Dumbarton Library HQ. It was given to the library sometime in the 1870s, donor unknown. Duncan Kirkpatrick? It was seen by Christine Lockhart and Joanne Lockhart, respectively great-great-great- and great-great-great-great nieces of Helen Lockhart in April 2002. One wonders when it was last seen by a member of the Lockhart family.
JOHN LOCKHART c1827-1903
Schoolmaster John's youngest son, born either Annan or Lochmaben, the only one not born in Renton. It is interesting to speculate what took the family back down to the south of Scotland (if indeed it was 'back down') although the family tradition is that we came originally from the south. Could schoolmaster John have been offered a school there, died, and his widow returned to her ~ in Renton? In any case the family were back in the Renton in 1841.

John married Margaret Bain in Renton in 1848. Some time in the next few years they moved to Grace Street, Finnieston, in Glasgow. John was a block printer in the dyeworks in that district. Their first three sons, Charles, Alexander, and William were born there.

By 1861 they had returned to Renton and two more sons, Duncan and Peter, were born. At least two children did not survive childhood. In 1863 James, aged 8, died of 'inflammation of the liver'. He was already working as a calico worker. In 1864 David, aged 2 months, died of a bowel infection.

With the mechanisation of the dyeing processes John became a working engineer. His sons Charles and Alexander are also described as 'engineers' in the 1871 Census for Renton. His son, Duncan, died of a brain tumour in 1882 aged 21.
MARGARET BAIN 1830 - 1903
Born Renton, father John Bain, calico worker, mother Elizabeth McIntyre. She died of chronic bronchitis shortly before her husband. The name 'Bain' appears in the Parish registers for Cardross in the early seventeenth century.
CHARLES LOCKHART 1854 - 1911
Engineer (see above). Married Martha Holland in 1875. He was 21, she was 17. She was a 'printfield worker'. They had three sons and three daughters: John, Duncan, Charles, Lizzie, Maggie and Martha. Charles and Martha emigrated to America, Maggie to South Africa. Latterly they lived in Castlegreen Street in Dumbarton.
MARTHA HOLLAND 1856 - 1913
Father Joseph Holland, a fireman at the printfields, mother Margaret Smith.
DUNCAN LOCKHART 1885 - 1954
Born Old Kilpatrick. Married Christine McFadden in 1904. They had five children, Margaret, Charles, John, Martha and Duncan. He worked in Denny's shipyards in Dumbarton. Early in their married lives a threatened strike by the shipyard workers resulted in a lock-out and the family moved to Letter House, Loch Katrine, where Duncan was an engineer on private yachts belonging to one of the landed gentry. They stayed there for around ten years. During the First World War the family lived in Inverness, at 'Struy', ?? Road ( now a Bed-and-Breakfast). He worked in the shipyards there. The family returned to the Dumbarton area and Duncan resumed work at Denny's, as a plater, where he helped build the Queen Mary and the Queen Elizabeth. In the 1920s he bought Rosebank Cottage, Cardross, birthplace of the writer A J Cronin.

Margaret married Robert Bulloch and had two sons, Ian and Duncan. Charles married Marie Farrell and had two daughters, Patricia and Christine, and one son, Douglas. John did not marry and drowned on military exercises in Canada while a member of the RCAF during the Second World War. Martha (Mattie) became a nurse and served in the field hospitals in Europe during WWII. She never married and eventually became matron of a hospital in Hong Kong. Duncan, the youngest, joined the Merchant Navy at the age of 15 and served all during WWII. He married Nancy Lyle. They had no children. He was torpedoed in the Atlantic but he survived the war and continued in the navy, eventually retiring with the rank of captain.
CHRISTINE MACFADDEN 1881 - 1965
Father John MacFadden, a carter, mother Margaret MacDonald. They came from Tiree and spoke Gaelic.
CHARLES LOCKHART 1906 -1967

Eldest son of Duncan and Christine MacFadden. Born Renton. Although a bright boy (he won a prize at Inverness Academy), he had to leave school at 13 to help the family. He always claimed that his first job had been as brake-boy on the horse-drawn open "bus" on the Duke's Road to Aberfoyle. Since he couldn't have been more than 8 or 9 at the time, this story may have gained something in the telling! He served his apprenticeship as a gardener and in the mid 1920s emigrated to Canada. He had intended going to New Zealand but his younger brother, Johnnie, who was already working in Canada as a gardener, persuaded him to come out there.

He worked in lumber camps, on ranches, and at Macdonald College, Montreal, as head gardener, where he used to join the students in a game of ice-hockey. He married Marie Farrell in Montreal and their first child, Patricia, was born in 1930. They later moved to Shediac Cape, New Brunswick, where Charles was head gardener on the estate of the millionaire, - Smith. In 1935, at the insistence of his mother, he returned to Scotland, to start up a market garden at Rosebank, Cardross. It was not a success. In 1936 a second daughter, Christine, was born. He worked as chauffeur-gardener to William Denny, a member of the shipbuilding family, until the outbreak of the Second World War, during which he served as a Radio Officer in the Merchant Navy. After the war, the family stayed for a brief period at 163 Bath Street, Glasgow, before moving to Dumfries in 1946, where he took up the job of gardener at the Benedictine Convent and lived at Nazareth Cottage, Rotchell Road, Dumfries. In 1949 a son, Douglas, was born.

In 1951 Charles again tried to set up a market garden, this time at the Isle Tower, Hollywood, near Dumfries (just a few hundred yards along the river from Ellisland, where Robert Burns farmed.) again without success.

In 1953 the family moved to Stapely, near Nantwich in Cheshire, where Charles was gardener at Stapely Grange. But they were soon back in Scotland, at the Hewke Cottage, near Sibbaldbie, Lockerbie, where he was gardener to the Ravens of The Hewke.

I have just learned that the Victorian painter, William Ewart Lockhart of Annan, also lived with his grandparents in this cottage in the 1850s. There is a possibility that the painter's great-grandfather was a cousin of our great-great-great grandfather, Schoolmaster John.

Shortly afterwards, they moved back to Cardross, to Brookes Road, where he was gardener to Eunice Murray (a leading light in the Scottish Suffragettes earlier this century) then to Glasgow Road, Dumbarton, where he became a bowling-green keeper, and finally to Rosebank, Cardross.

He died of emphysema in 1967, at that time being a gardener to a family in Helensburgh.
MARIE FARRELL 1903 - 1992

Born Belfast. Her parents were James Farrell (1880 - 1940) and Jane McCann (1873 - 1918). James Farrell was variously a baker, shoemaker, and finally miner. His father was James Farrell, a flax dresser, his mother Mary McArdle. The family possibly came originally from Cork. Jane McCann's father was Archibald McCann, a labourer, her mother Rose Neason. The family came from Armagh. James Farrell and his wife came to Glasgow in 1903 when Marie - then known as Maria or Ria was six weeks old, eventually settling in the mining village of Newton in Lanarkshire. Her brother John was one year old. Three other children were subsequently born, James, Rose and Harry. John and James worked in the mines also in their early teens. James took part in the Hunger Marches in the 1920s, but both brothers moved to Coventry in England and only returned to Scotland on holiday. Harry joined the army and disappeared some time before 1940. When his father was dying, messages were sent out over the radio to try to contact him, but without success. No-one knows what happened to him.

Jane McCann died in 1918 of Spanish flu. She was buried in a paupers' grave. She had just returned from a trip to Belfast to visit her family, the first time she had been home since the family came to Scotland in 1903.

As a girl, Maria worked with her mother at Speirs's farm 'shawing' turnips, and also at the coalhead. She went early into 'service' and in the mid twenties emigrated to Canada where she was received by French nuns in Montreal. They promptly re-christened her 'Marie'. She became nursemaid to the daughter of the Grahams, and while in this job met and married Charles Lockhart, in the Baptist Church, Montreal, February 1930. In 1948 (?) they were remarried according to Catholic rites in Dumfries.

During WWII, while her husband was away, she moved from Cardross with her two daughters to Glen Fruin, to escape the bombings, staying first in the bothy at Highfield Farm, later at the cottage further up the glen, with Mary Brown and her husband Archie. At different times she worked as cook at Cardross Park Home and as cook to the Wallaces; he was a golf pro, also of Cardross. The house they stayed in - they had the former night nursery, one room - had once been occupied by Sir Maurice Denny and his family. These jobs were punctuated by returns to Glen Fruin until she took a job in the torpedo factory in Alexandria and worked there until the end of the war. After a brief stay in Bonhill, the family moved to Back Street, Renton, where they remained until her husband came back after the war.

She died on 6 February 1992.